I'm not expecting many to see the significance of this, at least at this time,
as many would probably prefer to continue to "believe" the mainstream
and would never dare to think the mainstream might be
wrong
.
Belief
in authority seems to rule all.
Regardless
:
As from Adam's own rib is derived Eve,
so from Φ's own 'rib' is derived π.
The former is known as the
golden section
,
the latter, however, is hitherto
not known
,
but rather
merely believed to be
of some "transcendental" nature as 3.14159...
due to being
a mere approximation
.
π transcends
not
unless
her likeness is
de-coupled
from her own co-operative Φ, as
they are both meant to be
co-operator and co-creator.
Φ can be expressed in terms of π:
(π+π√5)/2π = Φ
(3π+π√5)/2π = Φ²
=(Φ + 1)
etc.
Thus π must
also
be able
to be expressed in terms of Φ.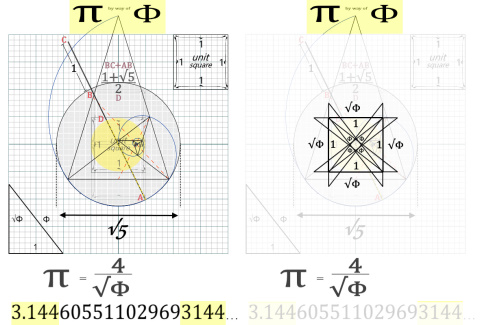 ______________________________________________________
Begin with a circle whose diameter is √5 and place two unit squares
inside the circle side-by-side, either horizontally or vertically (latter shown)
and connect any two opposite corners (shown AB) thus finding the describing line
to be √5. Extend AB by +1 unit (BC shown) and find the middle (D)
such to satisfy (1+√5)/2 shown as (BC + AB) / (D).
Find that by rotating AC about the origin, point D draws a related circle
which "kisses" the corresponding unit square 4 times equidistantly,
thus a precise π can be found without the need for approximation
expressed as an integer ratio of 4/√Φ.
By squaring π = 4/√Φ one recovers
π² = 16/Φ
thus conforms to Einstein's
E = MC²
16 = Φπ²
So why has present-day humanity de-coupled π from Φ?
One might as well ask why Adam and Eve were separated
and/or why man and woman were/are cast out of Eden:
the same is ignorantly de-coupling primordial yang and yin
such to
ignore
what Φ is to image (1D), π² is to likeness (2D).
In other words: the answer is naught but
human ignorance
.
The Giza pyramid uses the same 1/√Φ/Φ triangle: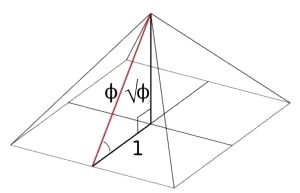 to encode and preserve this primordial relationship.
The correct π is thus


not

transcendental
-
it is a root of f(x) = x⁴ - 16x² - 256
and since Φ resolves the quadratic
x² - x = 1, Φπ² = 16 captures
the unification of-and-between
the primordial yang and yin: be they
space and time, image and likeness,
Adam (man) and Eve (woman),
electricity and magnetism etc.
all such relationships are naught
but expressions of the same function
described by the timeless Φπ² = 16.
Implications and utility to follow ...